Welcome to the Battlefield Bad Company 2: Visual Field Guide Version 1.0

This Guide is designed to give you a basic rundown of the BFBC2 User Interface as well as basic navigation of the server browser. This manual is by no means a complete authority on BFBC2 but is a gamer created Manual to assist you in getting up to speed on the latest edition in the Battlefield Series. Simply put if you are new to the Battlefield series or have a friend who wants to research the game prior to purchase take a look at this guide.

I will slowly be updating this manual with information and sections as I have time. If you have questions, comments, or things that need to be added please PM me or post in reply to this thread.

Note to the Forum MODS: There was not a sub-forum for game guides within BFBC2 so move the guide to the appropriate place or where you deem necessary.


Contents:

Section 1 - The Basics of Getting Started & Navigation

Section 2 - Spawn Screen & Squad Management

Section 3 - Combat Basics

Section 4 - Expansion Space

Section 1...
#1 Launching the Game

This should be pretty straightforward. Find the BFBC2 Icon on your desktop and launch the game. If you have yet to install the game well...yeah find the CD or DVD and go do that.

#2 Main Login Screen

The screen you see on you desktop the first time you login should look similar to the below image.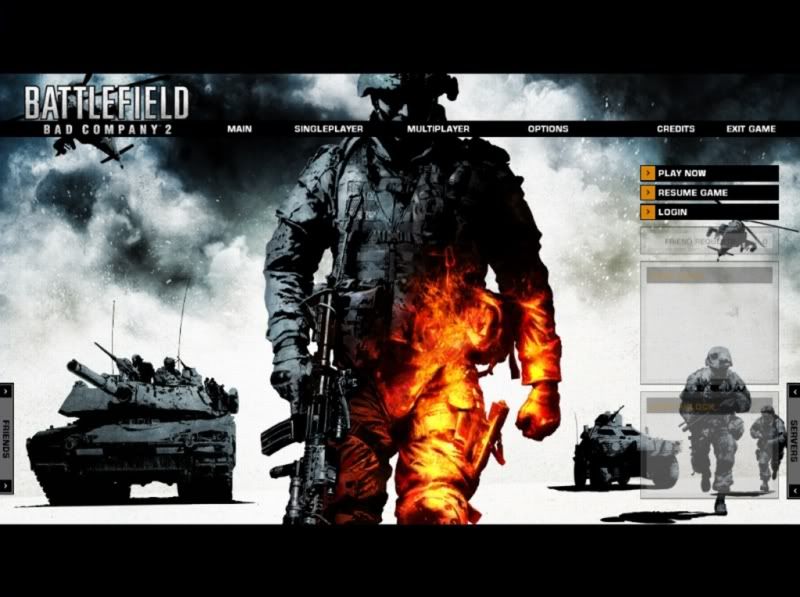 #3 Logging In

At this point you will need to click the Login Button on the Right Side of your screen. Follow the prompts to Setup your existing EA User Account to this game or create a new EA User Account. Once you are logged into your EA User Account you should have a Soldier Selection Screen such as below.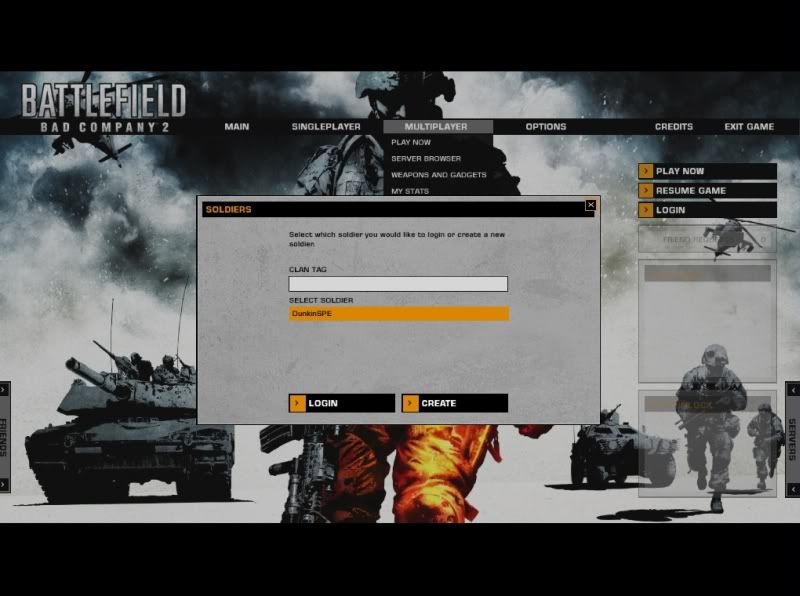 Note: The EA User Account will be linked to the CD Key for the game which you have installed. If you have previously played a Battlefield game on an EA User Account, enter the corresponding email and password at the login screen. If you are unsure of your old account info go to the EA webpage and view the information listed on the support page.

#4 Activating you CD Key

At this point during your first login you should be asked for the CD Key for your current copy of BFBC2. You can only use this CD Key for one EA user account SO BE SURE you are logged into the correct user account prior to activating the CD Key.

#5 Your Soldier Homepage

Once you are officially logged in you should now be at your Soldier Homepage. It should look like the one below.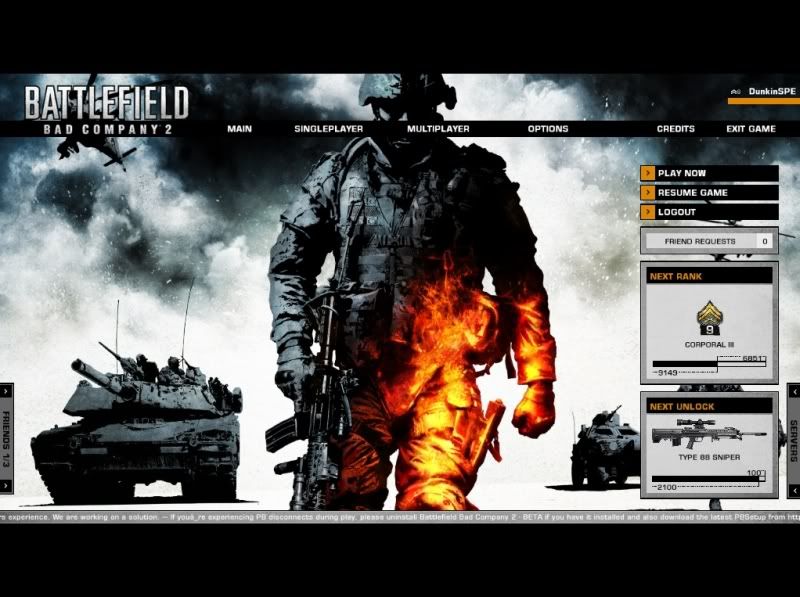 #6 Main Menu

At any point in time clicking the Main Menu Button on your Soldier Homepage will return you to the above view.




#6 Singleplayer

Clicking the Singleplayer Tab will display the Singleplayer options as shown below. But hey it's battlefield it's all about the multiplayer.


#7 Multiplayer

Displays the Multiplayer Options. We will cover some of these later in the manual.




#8 Options

Displays your Options. Also, these will be covered later.




#9 Credits

Shows the game credits. (No Pic)

#10 Exit Game

Clicking this will exit the Game and return you to your desktop. (No Pic)

#11

A quick or not so quick down'n dirty on the BFBC2 User Interface and what you need to know starts below.



#12 How Do I get my Unlocks?

Well if you did the preorder limited edition you should have received in you physical game copy of in your email a CODE Number that can be entered to activate you unlocks. If you used Steam to purchase the game Steam will prompt you with the Code the first time you login to the game.

Simply go to the Multiplayer Tab scroll to the bottom and click Redeem Code as shown below.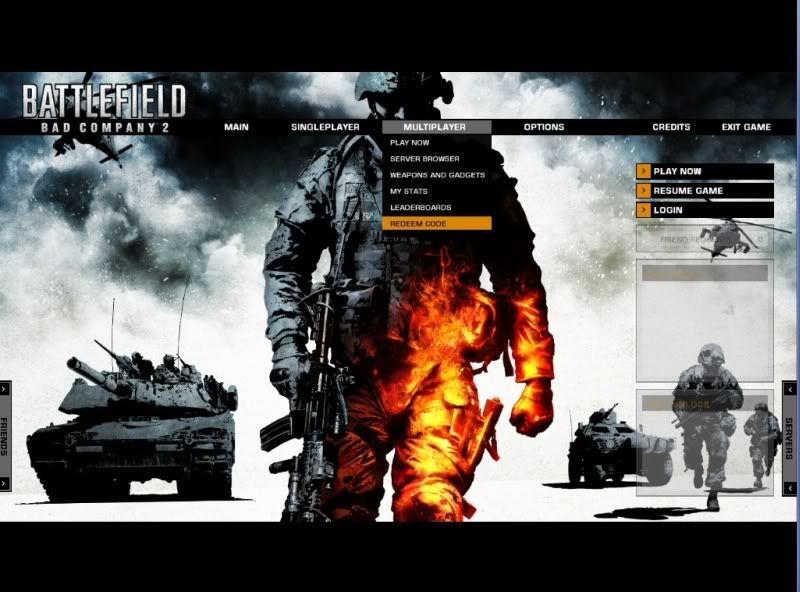 A window will pop up within which you can enter your Promo Code. Once entered your weapons should be unlocked. You may have to allow for a few minutes or hours to allow this to occur.

Note: Once used the code can not be used for any other Account. Please make sure you are on the primary account you want to have the unlocks on.

#13 Okay I got My Unlocks so now how do i set my controls up?

Basically go to the Options tab and you will see Settings, On Foot, In Vehicle, and As Pilot. If you are a veteran of Battlefield game these four tabs are similar to previous games. The exception being settings which is a bit toned down from previous versions.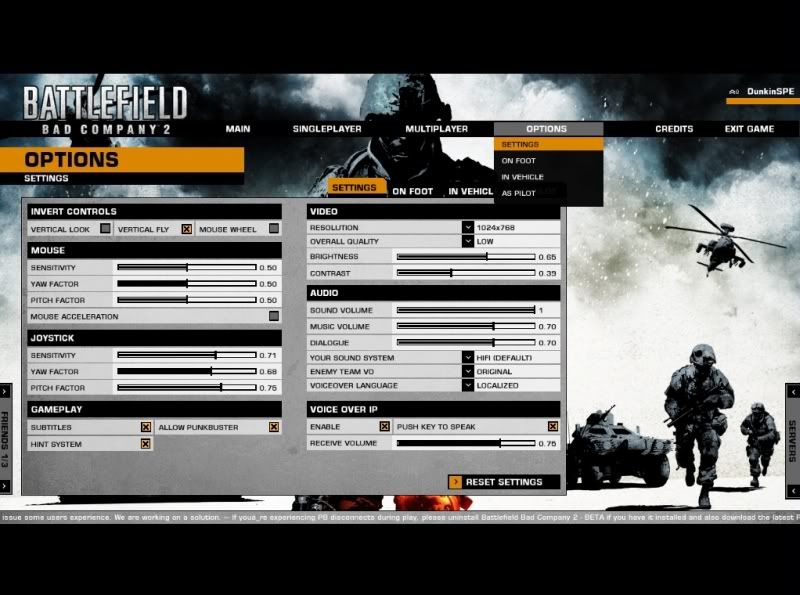 Tip: You may want to Invert the Vertical Fly Controls as well as adjust your sensitivity settings early on and test them in single player mode or on an empty server.

Gamer Tip [GunHappyBob]: If you are using a Joystick check out the Fly Controls as the INVERT checkbox will affect these as well.

#14 Okay I got my settings done how do i change my keymap?

Simply select the corresponding setting in the On Foot option. For example if you wanted to change the setting for zoom/detonate C4 just like in previous BF games click the box and press the new key selection. A popup will flash if you are affecting another key command as displayed below.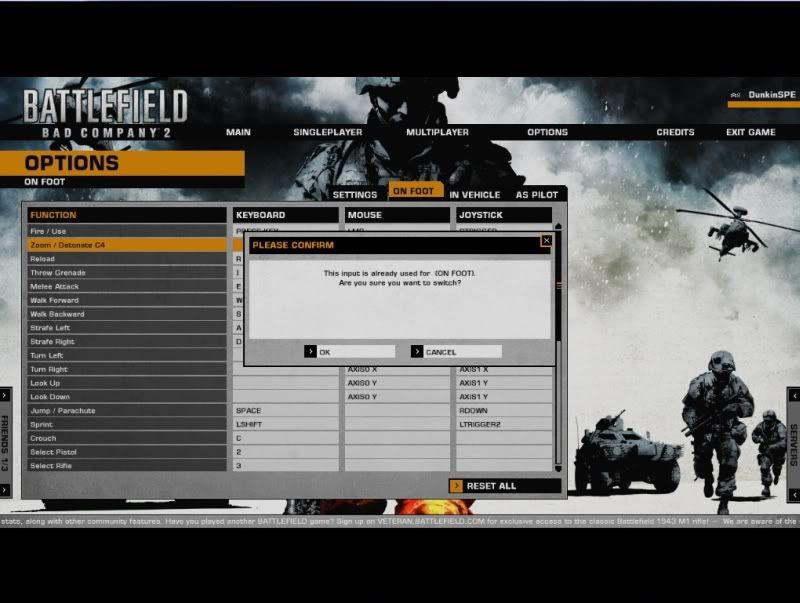 Note: Keymap changes are saved automatically there is no Apply button. The Reset All Button will return the keymap to the default setting.

Note: If you change your Weapon and Kit Keymaps the in game HUD in the lower right corner will not change to match your keymap selection. For example if you change the Pistol to #2 and Rifle to #3 the HUD will still show Pistol as 1 and Rifle as 2 and so on...

#15 Alright I'm ready to run n gun! How do I find Servers and Friends?

For Friends if you notice on your Soldier Hompage in the Bottom Left you have a Vertical Tab that says Friends. At this point it may say 0/0 but we can fix that.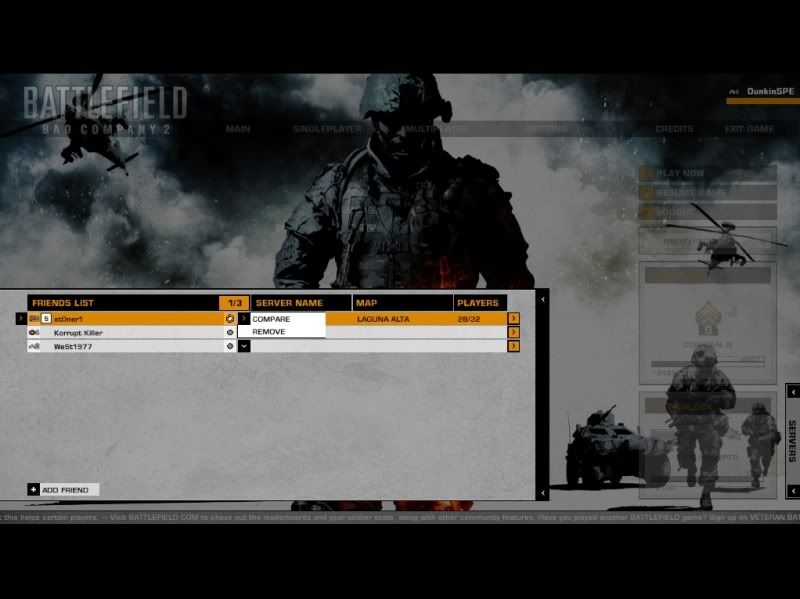 Click the Friends Tab.

Now in my example i have a few friends but at the bottom of the Friends tab should be a button that says add friend.




If you click it you should see a query box. Type in a friends name and hit search. If you are specific enough your friends name should pop up. Now click the Send Request Button.




Note: Requests appear in the corresponding box on you Soldier Homepage. These Requests get purged after you logout. Always check for requests prior to logging out. Crashing seems to do the same as logging as well.

Now at this point if I wanted to join my friend if he was in a server i could check my friends list and hit the Down Arrow next to his name. It would display my options to Compare my stats to his or Remove him because he stabbed me in the back one too many times.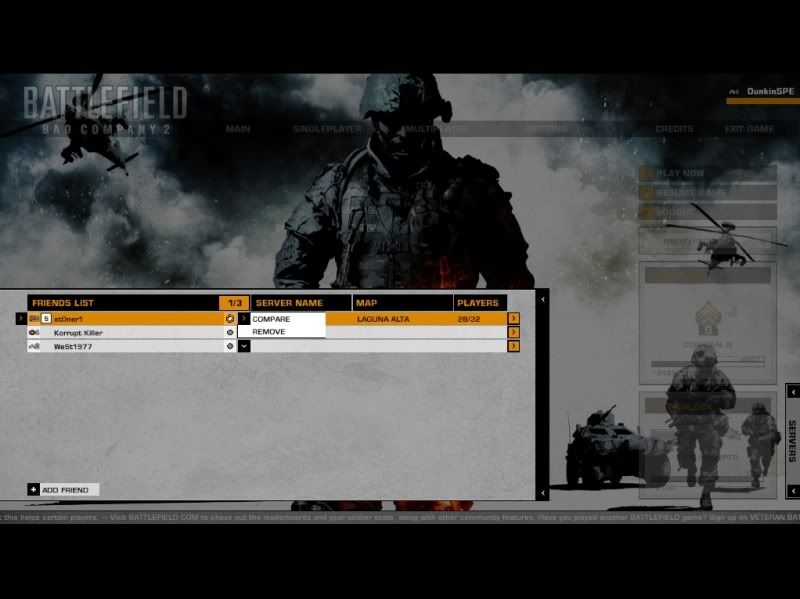 If i want to join my buddy in his current server all i have to do is click the far right arrow at the end of the Tab.

The below shows a compare screen and yes my friend has no life...just kidding.




#16 I don't need no friends just get me in a server!

Okay already. Well simply click on ye ole Multiplayer tab. And Click Play Now or Server Browser.




Now if you clicked Server Browser you'll get this screen so many of us now enjoy....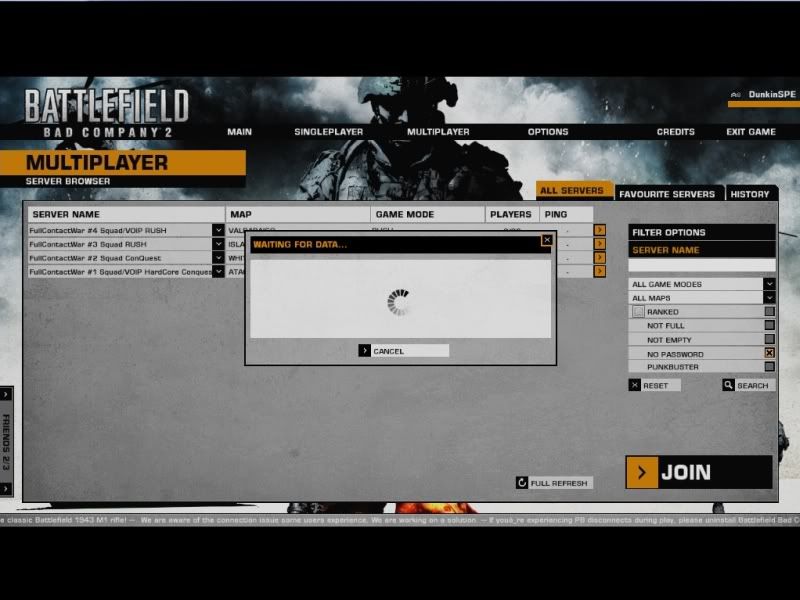 Still Waiting...Que elevator music...annnnd waiting.....WOOOHOOO!

Praise be to God its Loaded!




Now how to find that Favorite Server or Clan Server without using the broken filter tool? Simply Highlight SEVER NAME click and just like BF2 the columns sort Alphabetically!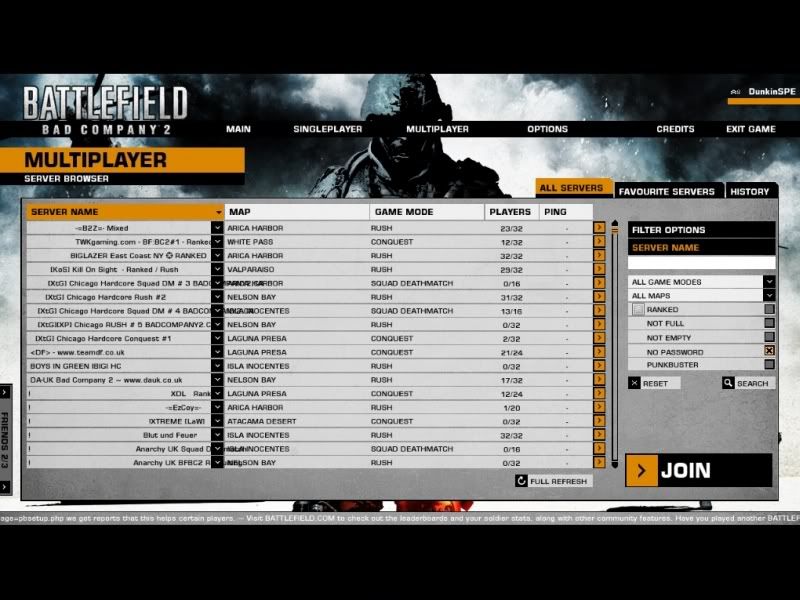 Simply Scroll down to my Favorite Server and....wait before you join....see that little arrow just to the right of the name.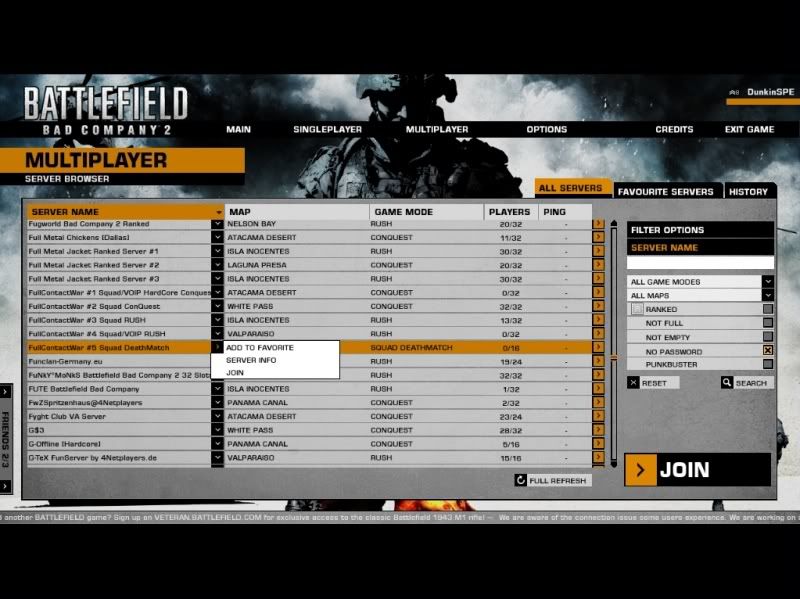 Click it...Add Favorite...Ohhhh Yeah...Kool Aid Man! Because now on my Soldier Homepage i can Click Servers.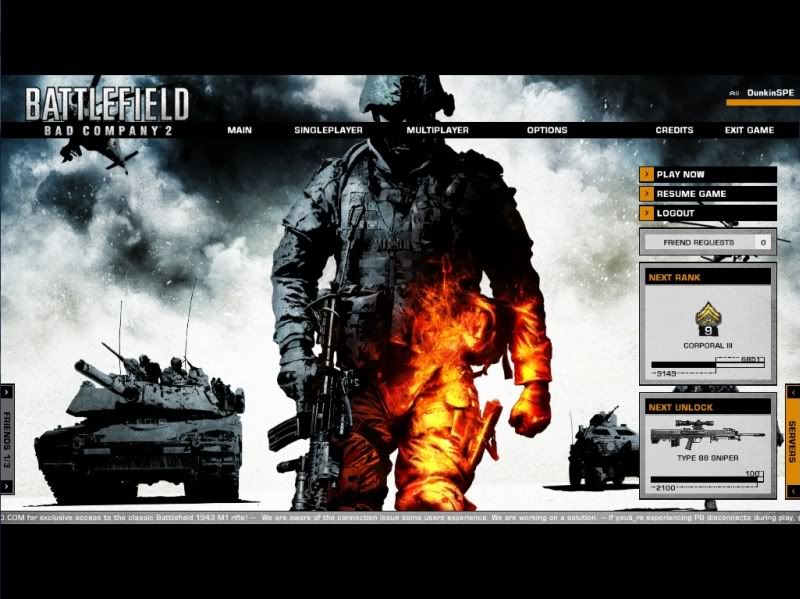 And then BAMMMM!!!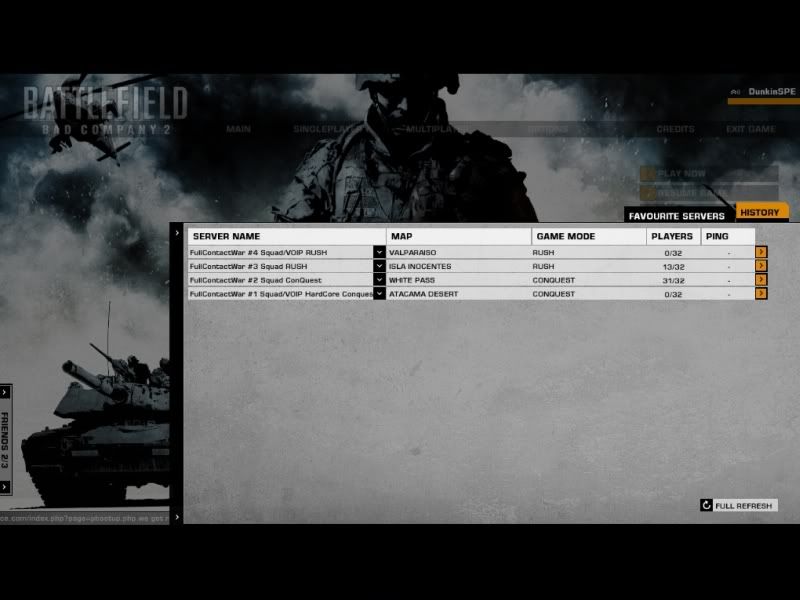 Shorter Refresh Time...

End Section 1....for now...