The Project Reality (PR) modification is truly an improvement of the PC Gamer - Game of the Year 2005, Battlefield 2 (BF2). PR is a recognized champion in the gaming arena.
Mod DB is the largest website dedicated to supporting independent development of games, including modified video games (mods). It's a site for players to find new ways to game, and for developers to show off their wares. The Mod DB site believes that the best way to get the best content is by relying on the shared experience and skills of the community. Above is the winner of the 7th Annual Mod of the Year Awards - the premiere event that celebrates the best creations within Mods. Project Reality won the Editor's Choice for Best Multiplayer Mod and Player's Choice for Mod of the Year awards.
So, are you ready for a better gaming experience?
Project Reality delivers. This is a First Person Shooter (FPS) game for mature gamers who thirst for teamwork where members of your squad actually communicate. If you are you tired of bunny hoppers, they have been virtually eliminated. Individual weapons shoot less accurately during and immediately following movement and fragmentation grenades are less accurate when thrown while moving or jumping with a longer time until detonation.
In-game behavior has been altered via the point system, limited special kits, tailored re-spawn times, and the requirement to have more than one player to conduct certain important tasks. As a squad member, you get additional points for staying close to your squad members and building forward outposts. There are squad and team limits to special kits like snipers and medics. A player is penalized with longer re-spawn times for undesirable behavior like getting killed (add 3 seconds), a team kill (add 15 sec.), and suicide (add 30 sec.). Desirable behavior is rewarded with a reduction in the re-spawn time; for example, capturing a control point (minus 3 sec.) and building an outpost (minus 10 sec.). You have to have more than one player to establish a rally point, capture a control point, and build forward outposts.
After being on the streets for 4 1/2 years, BF2 is still within the top 10 most played online games according to Xfire's current ranking system and has over 2,400 servers online. As of September 2009, the BF2 1.50 Patch includes not only the new Operation Blue Pearl map, but also includes the Euro Force and Armored Fury expansions for free to all BF2 players. Project Reality adds more to your map list with these 20 maps. There are 5 more maps that have been added and at least 4 more due to be released with the next version of PR. (The largest of the maps is a virtual 4 kilometers x 4 kilometers.)
Some of the old factions and equipment have been modified to give them a more current appearance/function:
New factions, game modes, and weapons have been developed. There are British, Russian, and Taliban factions and the next update will include the Israeli Defense Force (IDF).
This next image is actually two in-game screen captures side-by-side. The left is the effect of incoming rounds (bullets) on an individual player's screen. Suppressive fire that degrades the ability to return accurate fire. The right side is the screen of a wounded soldier. His vision is impaired, he is coughing, and his condition will continue to deteriorate until he is incompacitated and then dies.
In this next image is the Commander's Unmanned Aerial Vehicle (UAV) which he can actually fly around the map and view a video feed of enemy movements. In one game mode, the insurgents must protect weapon caches (the right portion of the image) while the coalition force must collect intelligence in order to destroy them.
One of the many great features is the ability to build things with a shovel. On the left is a wire obstacle that will hinder personnel and vehicle movement and on the right is a deployable heavy anti-tank system that will be available in the next release.
The fixed-bayonet, flex cuffs, incendiary grenade, and Molotov cocktail are some of the innovative weapons that can be used against personnel and equipment. Here is the Molotov in action:
The Project Reality developers are currently testing version 0.90. They believe it will be out before the end of the month for January 2010. There are many new features to the next verion of PR. Here is a video demonstrating one of the features, the expanded map marking system. The Squad Leader (SL) Radio is accessed as a new "weapon" in the Officer kit inventory.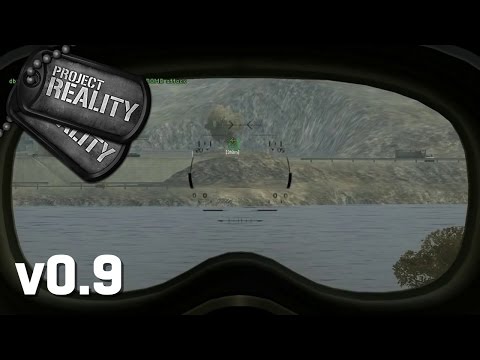 Try Project Reality modification of Battlefield 2 today:
http://www.realitymod.com/
BF2 going to PR Tips
http://www.realitymod.com/forum/f138...g-pr-tips.html
See you on the Project Reality Battlefield!
(This is a post from a Battlefield Community gamer and is not originating from the Project Reality Developer Staff)